Original painting artwork description:
Print information
Artwork printed by EPSON Stylus Pro 7880 (Epson Ultra Chrome K3 Vivid Magenta) on canvas.
Limited edition prints of 100.
Each limited edition artwork will be individually printed, signed, dated and numbered by the artist Vladimir Zunuzin.
Art Prints packaged in a plastic tube.
© zunuzin.com watermark is only used online and does not appear on your print.
Shipment and payment
Free worldwide shipping with tracking.
Will usually ship within 3-5 business days.
We send prints to all countries via Registered Airmail, they usually arrive within 35 working days to destinations within Western Europe and about 45 working days to destinations outside Europe.
Payments by Paypal or 2Checkout.
Tags
History of the Sappho, Phaon and Cupid by Jacques-Louis David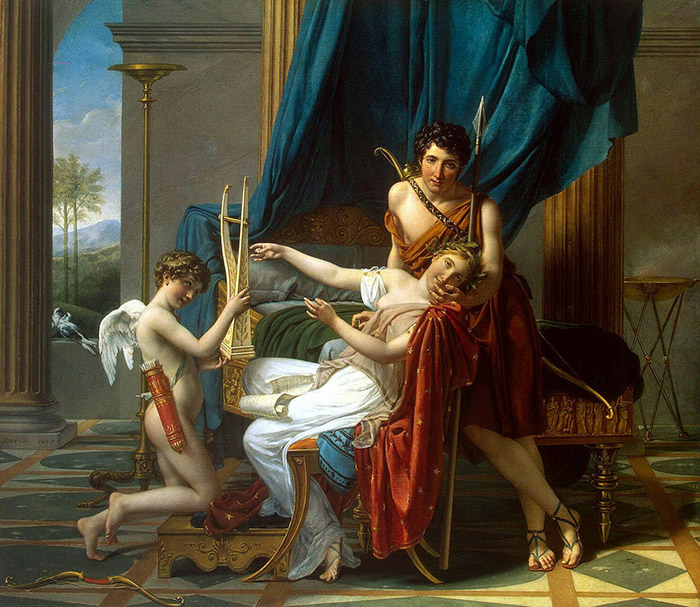 Jacques-Louis David
"Sappho, Phaon and Cupid", 1809
Hermitage Museum, Saint Petersburg
Sappho and Phaon is an 1809 neoclassical painting by the French painter Jacques-Louis David of Cupid, Sappho and her lover Phaon. It was commissioned by Count Nikolai Yusupov and is now the only painting by David in the Hermitage Museum in Saint Petersburg.
Sappho is shown sitting in a chair at the foot of a bed in a classically decorated room with columns, a marble floor and a view to a rural landscape outside (with Venus's birds, doves, sitting on the doorstep). Phaon stands behind the chair holding a spear and bow. On her knee is a scroll with some of her verses in praise of Phaon and Cupid kneels in front of her, holding up her lyre, which she tries to play with her right hand whilst leaning her head back to let Phaon cradle her head in his left arm.
Sappho was an Ancient Greek poet, born on the island of Lesbos. Later Greeks included her in the list of nine lyric poets. Her birth was sometime between 630 and 612 BC, and it is said that she died around 570 BC, but little is known for certain about her life. The bulk of her poetry, which was well-known and greatly admired throughout antiquity, has been lost, but her immense reputation has endured through surviving fragments. Via