Original painting artwork description:
The original artwork is oil painting on canvas, size 74.8x39.4 in (190x100 cm), and is available for sale.
Buy original on Singulart
Print information
Artwork printed by EPSON Stylus Pro 7880 (Epson Ultra Chrome K3 Vivid Magenta) on canvas.
Limited edition prints of 100.
Each limited edition artwork will be individually printed, signed, dated and numbered by the artist Vladimir Zunuzin.
Art Prints packaged in a plastic tube.
© zunuzin.com watermark is only used online and does not appear on your print.
Shipment and payment
Free worldwide shipping with tracking.
Will usually ship within 3-5 business days.
We send prints to all countries via Registered Airmail, they usually arrive within 35 working days to destinations within Western Europe and about 45 working days to destinations outside Europe.
Payments by Paypal or 2Checkout.
Tags
Painting process in details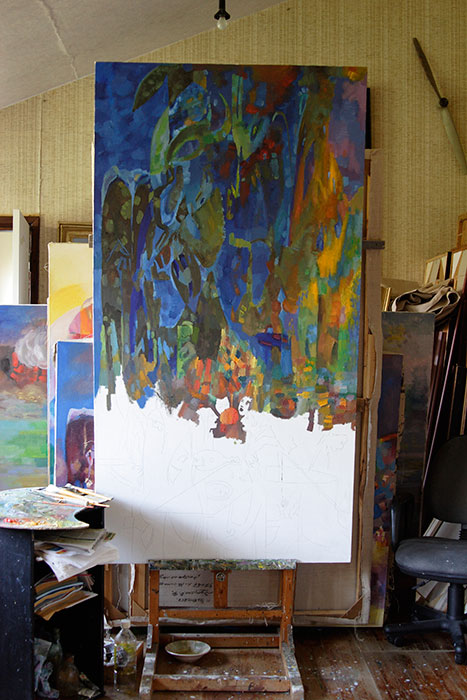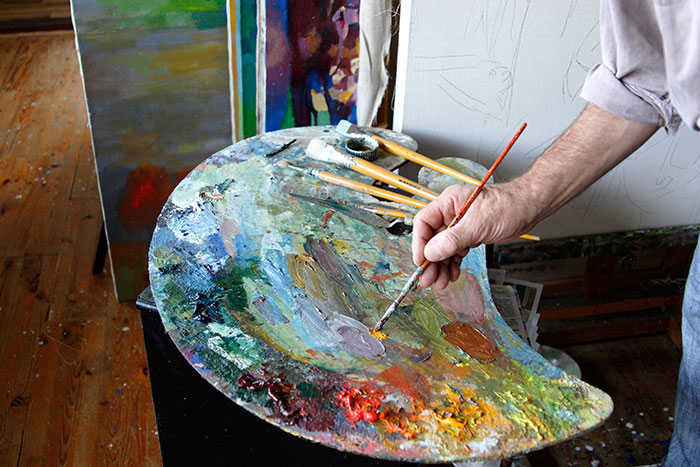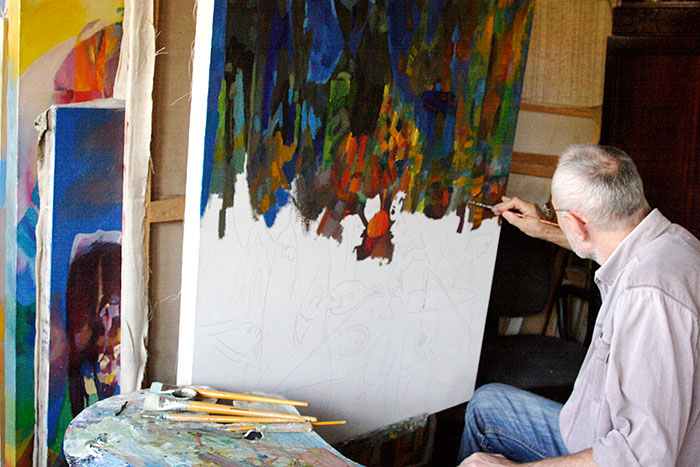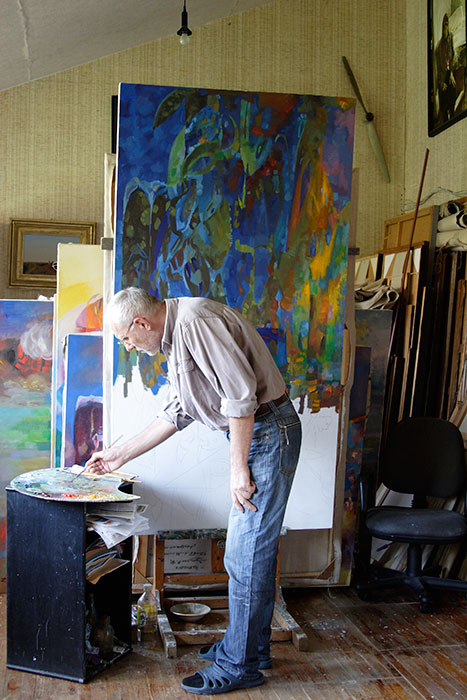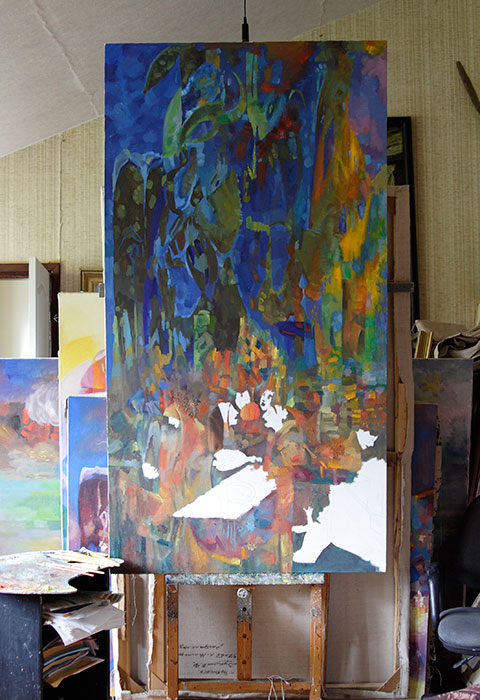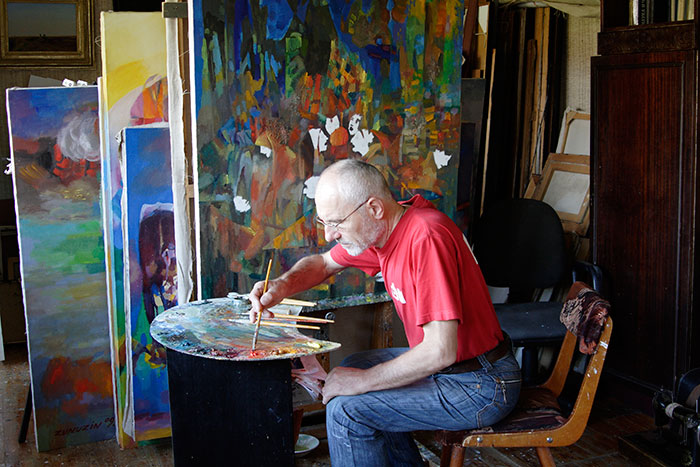 History of the Ship of Fools by Hieronymus Bosch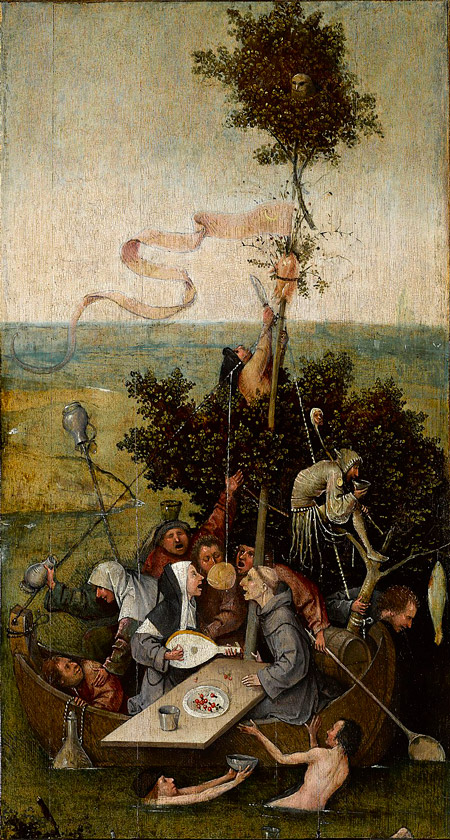 Hieronymus Bosch
"The Ship of Fools", 1490-1500
Louvre, Paris, France
A group of ten people are gathered in a boat. The main group is comprised of a Franciscan friar and a nun playing a lute. They are seated facing each other. Their mouths are wide open as if singing, but they appear in fact to be biting, like their companions, a pancake hanging from the mast of the little boat. This is an allusion to a folk custom, which consists of eating a hanging pancake without using one's hands. Behind them are seated the two boatmen. One of them has a giant ladle instead of an oar. The other balances a glass on his head while brandishing a broken jug on his oar. On one side, a woman readies herself to strike a young man with a jug. He is holding a flagon that he trails in the water. On the other end, sitting on a makeshift rudder, a little man in the dress of a fool drinks from a cup. Next to him, another leans over to vomit. The whole scene is dominated by a mast topped with a bouquet of flowers in the middle of which can be seen an owl or a skull. Above floats the royal flag of France with the muslim crescent moon. A roasted goose is strapped to the mast. The joyful group appear adrift; a vast landscape in the background stretches toward infinity.
It has been suggested that this unusual scene is an interpretation of The Ship of Fools, an allegory by the humanist Sebastian Brant, published in Basel in 1494. This work was illustrated by woodcuts showing ships loaded with fools drifting toward the "fool's paradise," called Narragonia. The sequel, The Ship of the Mad Women, by Josse Bade, has also been proposed as a source of inspiration. Nonetheless, in the illustrations to these books, the fools are clearly recognizable from their costumes and bonnets, with the ears of asses. In Bosch's painting there is only one such figure, and he appears as if to clarify the meaning of the painting. It is probable that a work which depicts people drinking and delirious, obsessed with food and drink, is a satire on monks and an ironic criticism of the drunkenness that deprives them of their reason and their souls. The monks are here represented by the religious figures in the foreground. Anger, a consequence of a predilection for drink, would explain the woman's gesture as she strikes the young man with her jug. The dissolute clergy thus allow the boat of the Church to drift, neglectful of the soul's health and well being. This aspect, representative of criticisms promulgated during the Reformation, appears to be embodied by the man in the water who hangs onto the boat while everyone remains oblivious. Via