Original painting artwork description:
The original artwork is oil painting on canvas, size 61.8x44.9 in (157x114 cm), and is available for sale.
Buy original on Singulart
Print information
Artwork printed by EPSON Stylus Pro 7880 (Epson Ultra Chrome K3 Vivid Magenta) on canvas.
Limited edition prints of 100.
Each limited edition artwork will be individually printed, signed, dated and numbered by the artist Vladimir Zunuzin.
Art Prints packaged in a plastic tube.
© zunuzin.com watermark is only used online and does not appear on your print.
Shipment and payment
Free worldwide shipping with tracking.
Will usually ship within 3-5 business days.
We send prints to all countries via Registered Airmail, they usually arrive within 35 working days to destinations within Western Europe and about 45 working days to destinations outside Europe.
Payments by Paypal or 2Checkout.
Tags
Painting process in details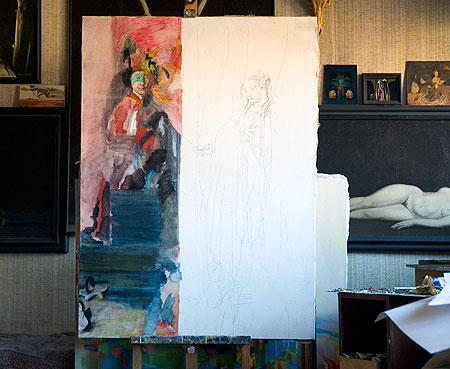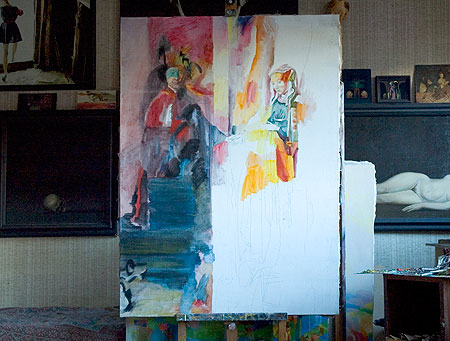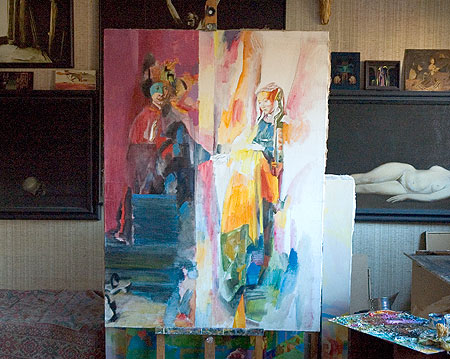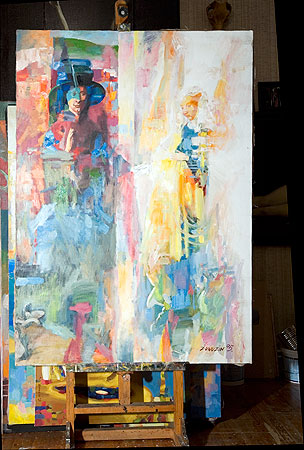 History of the Arnolfini Marriage by Jan Van Eyck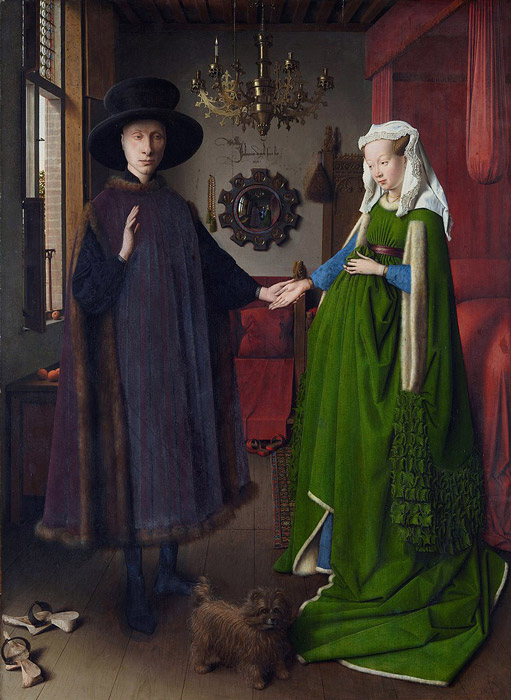 Jan van Eyck
"The Arnolfini Portrait", 1434
National Gallery, London
This work is a portrait of Giovanni di Nicolao Arnolfini and his wife, but is not intended as a record of their wedding. His wife is not pregnant, as is often thought, but holding up her full-skirted dress in the contemporary fashion. Arnolfini was a member of a merchant family from Lucca living in Bruges. The couple are shown in a well-appointed interior.
The ornate Latin signature translates as 'Jan van Eyck was here 1434'. The similarity to modern graffiti is not accidental. Van Eyck often inscribed his pictures in a witty way. The mirror reflects two figures in the doorway. One may be the painter himself. Arnolfini raises his right hand as he faces them, perhaps as a greeting.
Van Eyck was intensely interested in the effects of light: oil paint allowed him to depict it with great subtlety in this picture, notably on the gleaming brass chandelier. Via